LAGUARDIA AIRPORT - LGA
Use this website to quickly find the most important information about LaGuardia International Airport: Flights (Departures, Arrivals and Delays), Parking, Car Rentals, Hotels near the airport and other information about LaGuardia airport. Plan your travel to LGA Airport with the information provided in this site.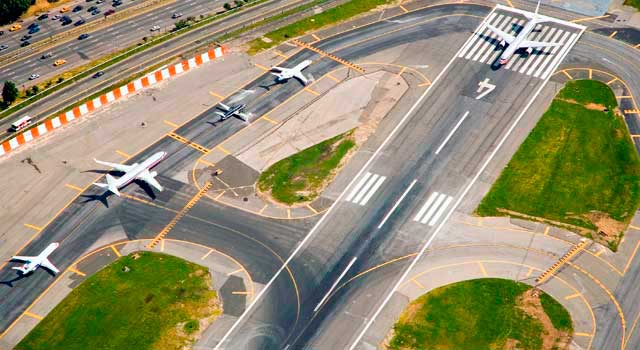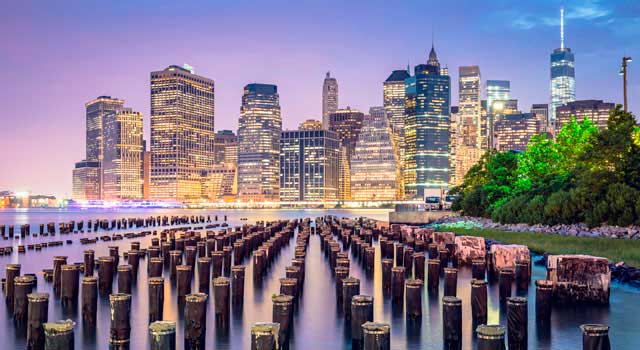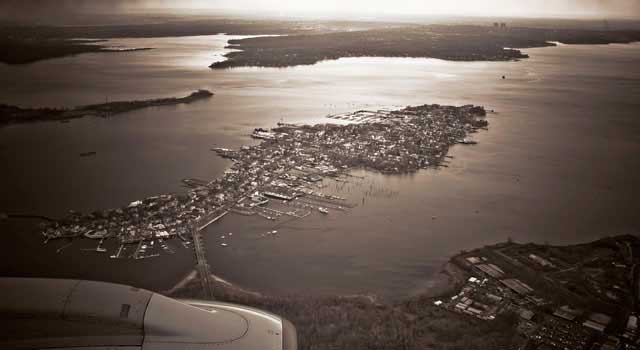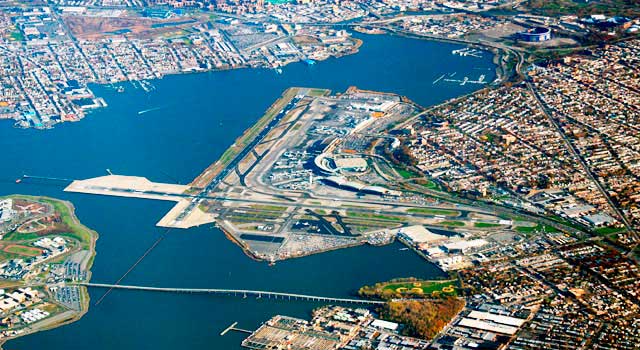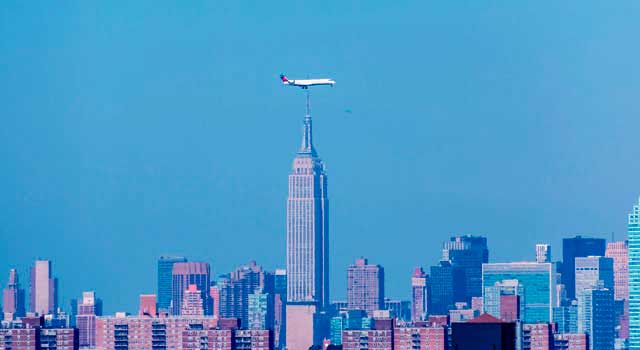 LaGuardia Airport (IATA: LGA, ICAO: KLGA, FAA LID: LGA), is an airport serving New York City, United States. It is the third commercial airport in terms of passenger traffic serving the city of New York, after JFK and Newark airports.
The airport is located in the northern part of Queens (borough of New York City), just 4 miles from Manhattan. It serves as a hub for Delta Air Lines and a focus city for American Airlines. The airport cannot serve non-stop flights to or from cities beyond 1500 miles (2400 kms), except Denver or on Saturdays.
In 2017, LaGuardia airport handled 29.5 million passengers. The annual traffic in LaGuardia has been very steady during the past two decades, with passenger traffic between 20 and 29 million.
As a result of this, is the busiest US airport without any direct connection to Europe.
LaGuardia Airport has four operating terminals A-B-C-D. Some terminals are managed by airlines.
Terminal C and D are connected by a walkway to easily connect between terminals.
- Terminal A: It is separated from the other terminals and along with the Delta Shuttle, general aviation operates from the terminal through fixed-based operator Sheltair. Airlines: Delta Airlines, Delta Shuttle to Chicago, Boston and Washington.
- Terminal C: It serves Delta Connection, Delta Shuttle, American Airlines, American Airlines Shuttle.
- Terminal D: It is known as Delta Terminal and serves Delta and WestJet flights.
- Buses: Several city bus lines link LGA the New York City Subway, Long Island Rail Road, Manhattan and Queens with free transfers provided for Metrocard users making subway connections. More info.
- Taxis: Go directly for the taxi stand located outside each terminal (ignore offers from transportation). The fares within New York City are metered (typical fares of $25 - $40 to Manhattan).More info.
- Rental Car: There are several car rental companies operating at LaGuardia. Check rental car page on-line for availability.
Check transportation page on-line to get more information.
Contact Information
Address: Ditmars Boulevard & 94th St, Flushing, New York, NY 11371, U.S.A.
Telephone: +1 718-533-3400
It is also known as Central Terminal Building (CTB), and serves most of LaGuardia's domestic airlines. Currently is under a refurbishment project to attend the increasing number of passengers and serves most of LaGuardia's domestic airlines.
It is divided in four concourses with 40 gates.
- Concourse A: Serves flights from Air Canada, JetBlue, United Airlines.
- Concourse B: Serves flights from Southwest and Spirit airlines.
- Concourse C: Serves flights from American Airlines, United, Virgin America, Envoy Airlines and Frontier Airlines.
- Concourse D: Serves flights from American Airlines.
Terminal B is the unique terminal with exclusively Port Authority operation. The project of redevelopment includes a pedestrian walkway connecting Terminal B to the new West Garage.
LaGuardia in numbers
- 2 runways (only 2,135 m. long)
- 4 Terminals. Terminal B divided in 4 concourses.
- 29.5 million travelers in 2017, being the 20th busiest airport in US.
- 369,987 aircraft operations in 2017.
- More than 15 airlines operating at the airport
- More than 50 destinations
- Top ten domestic destinations from LaGuardia: Chicago (1,5M), Atlanta (1M), Miami (0,8M), Dallas (0,7M), Fort Lauderdale (0,7M), Boston (0,6M), Charlotte (0,5M), Denver (0,5M), Orlando (0,5M), Detroit (0,5M).
- Busiest Airlines: Delta Air Lines, American Airlines, Southwest Airlines and United Airlines.
Present & future
Given the outdated facilities that LaGuardia Airport has, there is a reconstruction project to replace the existing airport which will last until 2021